Minit-Tune & Brake Auto Centres
Your one-stop automotive repair center for over 40 years

We're happy to show you what we find!
Fast, affordable service you can trust

Oil change maintenance package $42.88*
Includes free safety checks & tire rotation *check our coupon for details and conditions
AUTO REPAIR IN BRITISH COLUMBIA
Minit-Tune & Brake Auto Centres offer a wide selection of award-winning auto services in Vancouver and 18 other locations across the Lower Mainland, Fraser Valley, Okanagan and Alberta.
Experienced Auto Technicians
Our team of highly experienced technicians will work with you to keep your vehicle running smoothly for many years to come, just as we have for over 44 years!
Our quality automotive services are supported by a franchise-wide warranty program, which means you can rest assured knowing that your vehicle is being serviced by the most qualified technicians around.
Several components of your vehicle require regular maintenance to ensure optimal performance. One of the most important safety features that your car is equipped with is the braking system. Unfortunately, this component is also the one most taken for granted by vehicle operators. With the massive amount of wear-and-tear that people put on their brakes in Vancouver and other wet-weather areas across BC and Alberta, it's important to have them inspected often. The same holds true for regularly checking on fluid levels and measuring auto efficiency. If your core fluid levels are low, chances are that your vehicle is not running as optimally, and safely, as it should be…something you want to avoid, especially if your family is in the car with you! When you're in need of brake repair or inspection, or an oil change, you can count on the fast and convenient service at Minit-Tune & Brake.
VOTED BEST IN CUSTOMER SERVICE FOR
14 YEARS RUNNING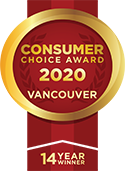 Fortunately, our expertise is not limited to just brake repairs and oil changes. We pride ourselves on being experts of all auto-related issues, and offer services that cater to any requirement—from electrical system inspections and repair, to complicated engine and transmission repairs, to full auto tune-ups, and everything in between. No matter what kind of maintenance your car needs, the friendly and skilled staff at Minit-Tune & Brake Auto Centres is ready to fix your vehicle and get you on your way. Visit one of our 18 locations across Vancouver, BC and Alberta today!