Exhaust & Auto Repair Surrounding Vancouver & AB
Exhaust systems include front exhaust pipes, catalytic converters, intermediate exhaust pipes, mufflers, and tail pipes, and these components serve several important functions: they direct combustion fumes away from the passenger cabin of your vehicle, help maintain fuel efficiency and reduce emissions and noise. Keeping your exhaust system in good repair improves mileage and keeps pollutants out of the air. You will find dependable exhaust repairs at Minit-Tune & Brake Auto Centres 15 locations across Vancouver, BC and Alberta.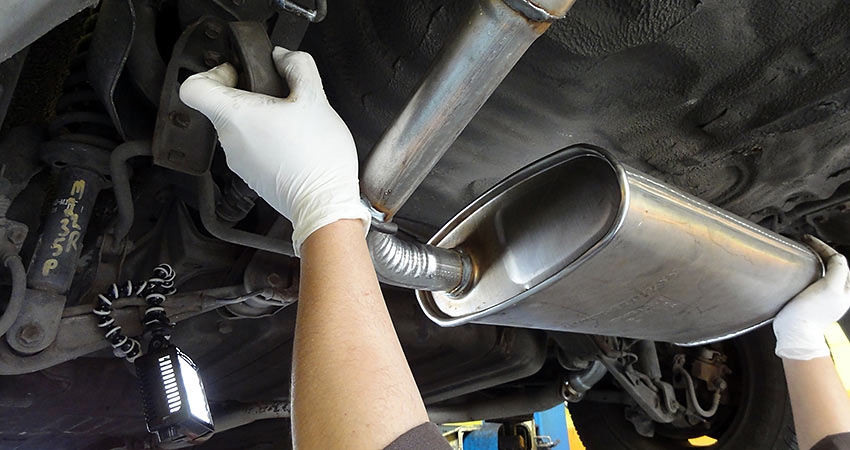 Don't Fail Vancouver Emissions Testing
Our teams will inspect your exhaust system as part of our maintenance check-up. Be sure to bring your vehicle to the exhaust systems experts at Minit-Tune & Brake Auto Centres if you notice any of the following symptoms:
Vibration
Loss of power
Increased fuel consumption
Thick smoke from your exhaust
Noise ranging from rumbling (usually caused by an exhaust leak), thumps or clunks (often due to a broken muffler) and louder clattering (signalling trouble with a catalytic converter)
A broken component in your vehicle's exhaust system could expose you and your passengers to carbon monoxide and release other damaging pollutants into the air. That's why Minit-Tune & Brake Auto Centres use only quality brand Original Equipment Manufacturer's (OEM) parts for your exhaust system. Plus, on muffler replacements, we provide our customers with a limited lifetime* warranty on quiet flow mufflers. Bring your vehicle to your dependable exhaust systems mechanics at one of Minit-Tune Brake & Auto Centres Vancouver, BC, or Alberta locations.