Winter Tires For Vancouver And Cities Across Bc
While drivers who navigate B.C.'s more temperate areas may be able to use all-season tires, many highways require motorists to use winter tires from October 1 to April 30. Here's what you need to know about winter tires and the rules and regulations that apply to them in B.C.  And if you're looking for the best mechanic or auto centre to get your winter tires changed this year, you've come to the right place. Book an appointment with Minit-Tune & Brake online today.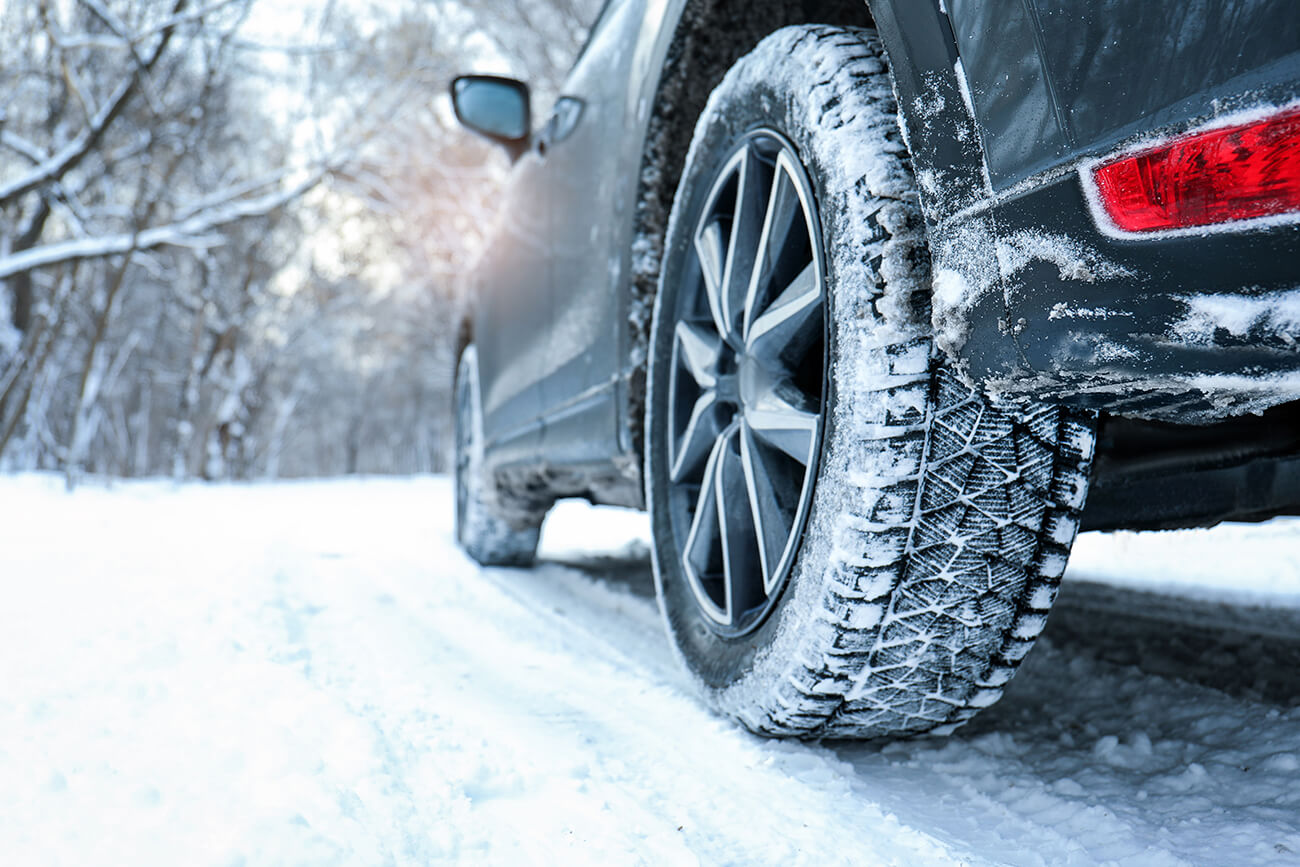 WHY WINTER TIRES ARE NEEDED TO DRIVE IN BC
Winter tires, also called snow tires, are designed to handle snow and ice thanks to the gaps in their tread, which provide more traction than summer or all-season tires when driving on snowy and ice-covered roads. They're also made of a softer rubber compound than all-season tires, allowing them to remain flexible in freezing temperatures, which also contributes to better traction.
Winter driving can be hazardous. Black ice, wet conditions and cold temperatures all reduce the amount of friction your tires exert on the road, and this makes collisions and accidents more likely. Winter tires provide the traction you need for greater control, thereby keeping you and road-users safe. A good rule of thumb to follow is once the temperature dips below 7°C, then it's time to prepare for the switch to snow tires.
ARE WINTER TIRES MANDATORY IN VANCOUVER?
Some areas of the Lower Mainland and parts of Vancouver Island, which are coastal areas that have a much more temperate climate, don't enforce the use of snow tires.
However, if you're planning on driving anywhere else in B.C., then snow tires are mandatory. This is because most of B.C.'s highways include mountain passes where winter-like conditions can appear as early as October. These are referred to as designated winter tire and chain routes.
The routes are clearly marked by regulatory signs and are enforced by police as well as ministry officials. If you're caught driving on one of these roads without winter tires or other traction devices, you'll be fined $121 and you could even end up being turned away.
Are studded tires allowed in B.C.?
Yes, studded tires can be used on B.C. highways from October 1 to April 30. However, driving with studded tires outside of this period may result in a fine. Furthermore, the studs must not protrude more than two millimetres from the tread. If you plan on using studded tires, you should install them on all four wheels for even traction.
TYPES OF WINTER TIRES LEGALLY REQUIRED IN B.C.
There are two types of tires that meet the legal definition of a snow tire in B.C. and at Minit-Tune we take care of both:
All-season Mud and Snow (M+S) tires. These offer slightly more traction than regular tires but aren't as effective as dedicated snow tires. They're a good option if you'll only be driving in winter conditions occasionally and with heightened caution. They must have a tread depth of 3.5mm. These tires are not approved for driving on B.C. Highways that are designated winter tire routes.
Mountain/snowflake tires. These tires, which are identified by the presence of the mountain/snowflake symbol on the sidewall, are required if you live or regularly drive in an area that gets a lot of snow, slush and ice. They have much deeper tread and offer better traction than mud and snow tires.
To find you a set of winter tires that meets your needs, speak with a team member at your local Minit-Tune & Brake Auto Centre.
HOW TO TAKE CARE OF YOUR WINTER TIRES
There's a lot riding on your winter tires, and poor maintenance and storage can easily ruin them, rendering them ineffective. Here's how to care for them and get the most out of your winter tires every year:
Check the tread regularly. Worn treads make a tire less reliable and changes the way your car handles. Most tires have tread wear indicators, which are lines that indicate when the tire needs to be changed. You can also use a tread gauge or ask a professional.
Always use matched tires. Always use a set of four matched tires. Using mismatched tires can end up making your vehicle much harder to control, which is extremely dangerous when driving in winter conditions.
Monitor air pressure. Improperly inflated tires are dangerous and often wear out prematurely. Make sure that the air pressure is within the tire's maximum range and that it conforms to the vehicle manufacturer's specifications, which are found in the owner's manual and in a few other places in the cabin.
Remove at the right time. B.C. requires winter tires be used between October 1st and April 30th, but you should also remove them once the temperature is above 7 degrees Celsius for over a week.
Store properly. Store tires in a cool, dark and dry place indoors and away from electrical motors. These produce ozone, which can degrade tire rubber.
Keeping your winter tires in good condition will prevent you from running into any unexpected problems on the road.
CALL MINIT-TUNE & BRAKE TO GET YOUR WINTER TIRES CHANGED ASAP
Minit-Tune & Brake Auto Centres can help you make winter driving safer. If you need quality winter tires installed by an experienced professional, bring your vehicle to one of our many locations across British Columbia—in fact, you're likely within 20 minutes of the most reliable car mechanics in your area! From Vancouver to Salmon Arm, contact us today at a location near you find out more about our winter tire services and to book an appointment!