Buying a Pre-Owned Vehicle? Pause! Get a Pre-Purchase Inspection Done First
Are you thinking of purchasing a pre-owned vehicle? Do you have adequate information about the vehicle that you plan to spend your hard earned dollars on? There is a simple solution to help you finalize your purchase decision. Book a Pre-Purchase Inspection (PPI) to get a detailed report on the vehicle's aesthetic, mechanical and safety conditions. Rely on certified professionals at Minit-Tune & Brake Auto Centres to conduct a thorough inspection and honest assessment of the vehicle you have shortlisted. With over 18 convenient locations across BC and Alberta, you will never be too far from one of our centres.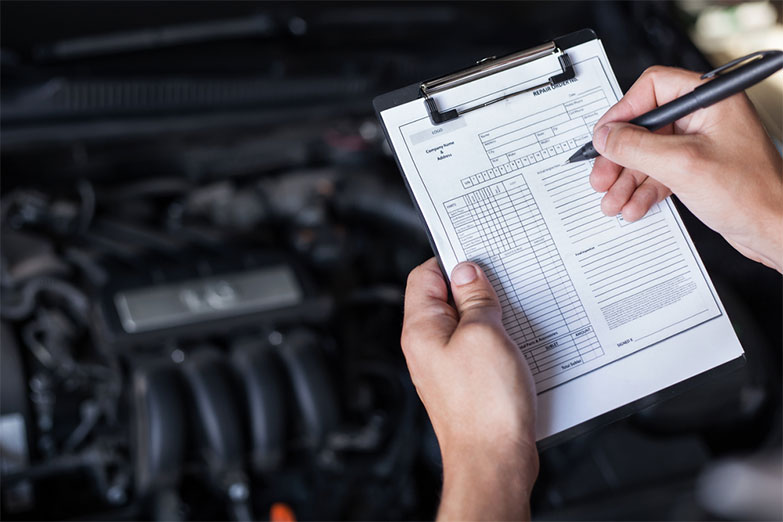 Why Get a Professional Pre-Purchase Inspection (PPI)
A PPI consists of a comprehensive multi-point checklist inspection conducted by certified automotive technicians who are familiar with the make and model of various vehicles. The detailed report will tell you if the vehicle has any pre-existing problems that could potentially lead to costly repairs in the long run.
What to Expect in a Pre-Purchase Inspection Report
The multi-point inspection report may differ marginally from one province to another. However, most PPIs are based on a 140-point, 176-point or a 210-point mechanical and system performance inspection. A Pre-Purchase Inspection will include checks on various aspects such as:
Exterior of the Vehicle: Tires, windows, windshield, lights, exhaust, overall body condition including rust, damage, or visual evidence of any previous accidents
Hood Components: Radiator, battery, electrical system, heating/cooling system, hoses, belts and fluids
Vehicle Safety Features: brakes, seatbelts, warning lights, air bags
Vehicle Performance: Engine tests, exhaust , suspension and tire tests
Additionally, the technician may take photos of the vehicle's exteriors and interiors, and conduct a test drive, both at the owner's discretion.
Do You Need an Out-of-Province Inspection?
The province of British Columbia mandates a one-time Out-Of-Province vehicle inspection for used vehicles which are being imported from another province. The process ensures that the purchased vehicle is compliant with all the safety norms defined in the Motor Vehicle Act Regulations (MVAR). If you plan to purchase a pre-owned vehicle that is registered in another province, you will need an Out-of-Province Inspection before you register it in BC.
Be a Savvy Buyer. Book a Professional Pre-Purchase Inspection before Investing in a Pre-Owned Vehicle
An accurate assessment of a vehicle's mechanical and safety aspects will help you make an informed decision while purchasing a pre-owned vehicle. Before making the purchase, book a PPI with Minit-Tune & Brake Auto Centres. Our experienced and qualified auto technicians will ensure your confidence and safety before you get behind the wheel of your new purchase. You can also bring in your vehicle for a host of auto repair services including routine maintenance such as tune-ups, oil changes, and wheel alignment.
For more information about our comprehensive pre-purchase inspections in Vancouver and its surrounding cities, or to learn more about the auto repair services we offer, contact one of our centres in your area.
MINIT-TUNE BLOG
Minit-Tune & Brake Auto Centres Address Common Issues
Here at Minit-Tune & Brake Auto Centres in British Columbia, we're always pleased to help our customers get the most out of their cars and trucks. To that end, we'll add a relevant blog topic from time to time to keep you up to date and getting the most out of your vehicle.