Create a Useful Emergency Kit for Your Vehicle during Winter
There are a few things you can do to prepare for winter driving and make things safer for you and other drivers on the road. Start the season with a thorough maintenance appointment and inspection by a trained auto technician, have winter tires put on in a timely fashion, and keep a well-stocked emergency kit in your car all year long. A convenient emergency kit will ensure you have everything you need if something unexpected happens on the road. Being prepared is crucial for you, your passengers, and your vehicle to stay safe and have options during unplanned and unpredictable situations.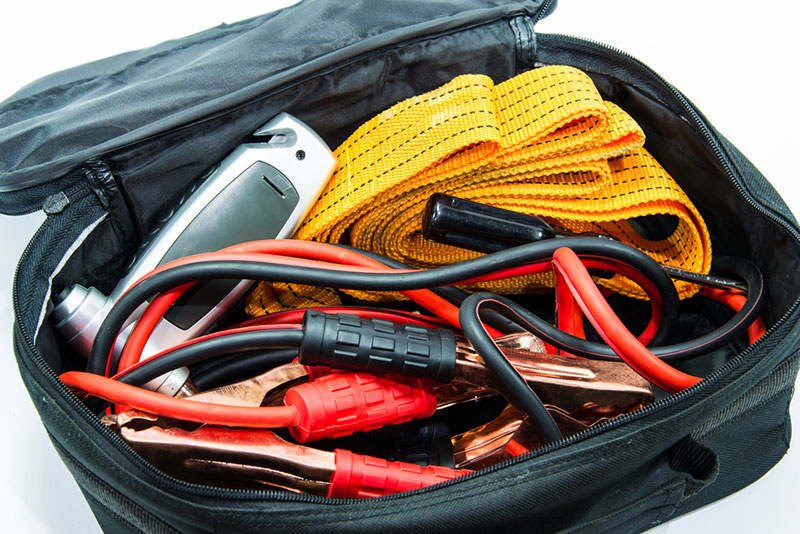 10 Things to Keep in Your Vehicle's Emergency Kit this Winter
Not sure what to put in your emergency kit? Stock these 10 items or speak to the professionals at Minit-Tune & Brake Auto Centres for reliable tune-ups, auto repairs, and advice to keep your particular make and model safe and secure throughout the season:
Water: Bottled water or a gallon of water is crucial to have on hand in case you are stranded.
Food: Non-perishable food items should also be stocked. Choose high-energy items like granola bars and peanut butter.
Warmth: A wool blanket or sleeping bag is important to keep you warm. Foot and hand warmer packs can also be useful. Winter clothes such as boots, gloves, and hats should also be packed.
Visibility: Pack a large flashlight with extra batteries to remain visible and navigate easily after dark.
First Aid: Bandages, antiseptic, band aids, tweezers, and other emergency supplies for cleaning wounds are important when you are on the road.
Repair Tools: A four-way lug wrench, screwdrivers, hammer, small shovel, hose clamps, pliers, and Swiss Army Knife can all be useful in a tough situation and should be kept handy.
Traction: Sand, cat litter, or tire chains can be useful to provide extra traction when necessary.
Sparks: Battery jumper cables should be stowed in your vehicle all year.
Papers: Keep insurance information and ownership papers with you. It is also a good idea to keep a small notebook and pen or pencil on board to record information in an accident.
Personal Items: Be prepared if you rely on specific medication. Consider keeping a toothbrush and other personal hygiene items handy as well, in case you are unable to receive assistance for an extended period of time.
Book Your Tire or Auto Repairs at Minit-Tune & Brake Auto Centres
Maintain control of your vehicle by keeping yours well maintained. Make an appointment at the Minit-Tune & Brake Auto Centres location near you for trusted and affordable vehicle services. With over 40 years providing auto repair services in Vancouver and surrounding cities, for residents of BC and Alberta, we are here to support your vehicle and safety through the winter.
Contact the Minit-Tune & Brake Auto Centres location near you or contact us online to book your vehicle service.
MINIT-TUNE BLOG
Minit-Tune & Brake Auto Centres Address Common Issues
Here at Minit-Tune & Brake Auto Centres in British Columbia, we're always pleased to help our customers get the most out of their cars and trucks. To that end, we'll add a relevant blog topic from time to time to keep you up to date and getting the most out of your vehicle.