The Dos and Don'ts of Towing Your Recreational Vehicles
No matter what time of year it is, we see people driving recreational vehicles all over BC and Alberta. If you live in Canada, then you understand just how much there is to do here. Whether it's camping or snowmobiling, there's always a way to spend your free time outdoors. Because of this, many drivers will need to haul large trailers or campers in order to enjoy their favorite activities. With this being said, there is definitely a right way and a wrong way to transport your recreational vehicles.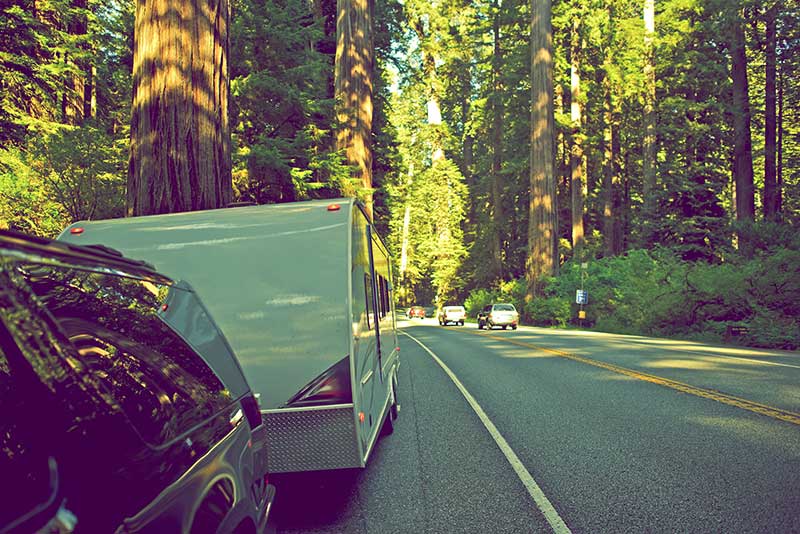 Doing it the wrong way can be, at best, illegal, and at worst, dangerous. Fortunately, Canadian authorities have laid out a pretty clear and concise set of rules for the transportation and telling recreational vehicles. Most people understand that you are not going to tow a full-sized camper with a
smaller worn car. You're going to need a vehicle that is adequately prepared to move a large amount of weight for long distances. It's also important
to understand that this puts additional stress on your vehicle. This translates into extra wear and tear, and a need for more frequent tune ups. The
highly trained auto repair technicians at Minit-Tune & Brake Auto Centres can help with everything from regular maintenance including oil changes, brake & tire installation & repair, to the installation of necessary towing equipment.
The Dos and Don'ts of Towing Your Recreational Vehicles
Do:
Call one of Minit-Tune's convenient locations to have a proper towing hitch installed. Having this done professionally can reduce problems and ensure that you are safe from the start of your trip
Have a tune-up and/or a safety check done prior to towing or hauling an RV. The only thing worse than being stuck by the side of the road with a break down is to be stuck with a huge fifth wheel camper!
Check with all weight, signaling, and licensing requirements prior to towing or hauling anything. Ignoring these regulations and recommendations can lead to hazardous conditions while driving and can endanger you and other people on the road.
Don't:
Exceed the weight requirements laid out by BC authorities. This can stress the axle or cause irreparable damage to your vehicle. Not to mention the enormous safety risk it poses for everyone on the road.
Ignore the speed limit. When trying to haul something heavy, you may have to abide by a slightly different speed limit. Always pay attention to the rules and regulations wherever you travel in Canada.
Forget to make sure that your license is adequate for what you plan on towing. If you have a trailer that exceeds a certain weight limit, you may be required to obtain a different class of driver's license before getting behind the wheel.
Travel without planning. Having a fully loaded trailer can mean limiting your routes. Certain residential and underdeveloped areas may not be able to accommodate a heavier load.
Forget to have an inspection done prior to leaving. This can ensure that all of your signal lights are working properly, and that everything is well within safety requirements.
If you're planning a BC or Alberta road trip with your favorite recreational vehicles in tow, contact Minit-Tune & Brake Auto Centres online or call one of our convenient locations before you leave! We provide the best auto repair in Vancouver and surrounding areas.
MINIT-TUNE BLOG
Minit-Tune & Brake Auto Centres Address Common Issues
Here at Minit-Tune & Brake Auto Centres in British Columbia, we're always pleased to help our customers get the most out of their cars and trucks. To that end, we'll add a relevant blog topic from time to time to keep you up to date and getting the most out of your vehicle.