When is the Best Time to Change Your Car's Air Filter?
The air filter is designed to prevent harmful debris, dirt and contaminants from entering your car's engine. Dirty air filters prevent the required amount of clean air from reaching the engine, causing it to work harder. The emission control system of the vehicle is also affected.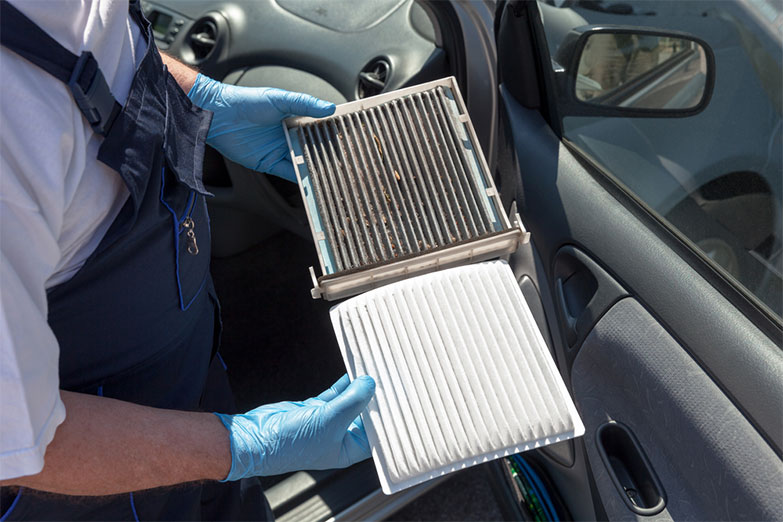 Generally, it is recommended that you replace air filters every 12 months or 12,000 to 15,000 miles. However, you should check your owner's manual for your vehicle's filter replacement schedules. Changing them is less expensive and stressful than major car repairs resulting out of neglect. Here are some warning signs your filter might need to be replaced.
5 Common Signs of a Dirty Air Filter
Reduced fuel efficiency: If you find yourself filling gas more often, check the air filter. When clogged with dirt and debris it limits air flow to the engine, reducing its fuel efficiency.
Reduced acceleration: Noticed that your engine does not respond properly when you step on the accelerator? Jerky movements and slow acceleration could mean your engine is not getting the amount of air it needs. Try replacing the filter.
Ignition trouble: Need to turn the key or press the ignition button more than once? A sluggish start could mean a dirty air filter. This will pollute the spark plugs and prevent them from sparking properly resulting in starting problems or unusual sounds coming from your engine.
Black smoke from the exhaust: When this happens, schedule an appointment with your mechanic right away. Insufficient air supply can result in some fuel not burning and exiting your vehicle through the exhaust pipe. This can also cause a gasoline smell when you start the vehicle.
Service engine light comes on: Limited air flow on account of a dirty filter can result in deposits accumulating in the engine which can trigger the light. Do a visual inspection of the air filter. This is usually a simple process. New filters are typically white or off white. If it is grey or full or particles, it is time to replace it. However, it is important to note that sometimes the particles are too small to be noticed. Ideally, have it checked by an expert auto mechanic.
Ready to Have Your Car's Air Filter Replaced? Bring it In for Auto Repairs in Vancouver and Surrounding Cities
One of the most important and simplest parts of the auto maintenance process is changing the engine oil and filter. As you add miles to your vehicle, the filter gets clogged with pollutants from the air entering the engine chamber. In addition to reducing engine power and fuel efficiency, this can damage internal components.
The team at Minit-Tune & Brake Auto Centres can help with oil and filter changes as well as advise you on the schedule. When you bring your vehicle in, we can also do a thorough visual check including the tires, belts, fluids, brakes, front-end, exhaust, electrical and cooling system. Our multi-point inspection helps identify and fix issues before they turn into expensive major repairs.
To have your vehicle serviced, find an auto repair shop near you today. For questions about auto repairs in Vancouver and surrounding cities, or to learn more about car engine air filter replacement, contact one of our centres in your area.
MINIT-TUNE BLOG
Minit-Tune & Brake Auto Centres Address Common Issues
Here at Minit-Tune & Brake Auto Centres in British Columbia, we're always pleased to help our customers get the most out of their cars and trucks. To that end, we'll add a relevant blog topic from time to time to keep you up to date and getting the most out of your vehicle.