Winter Tire Rules for B.C. Drivers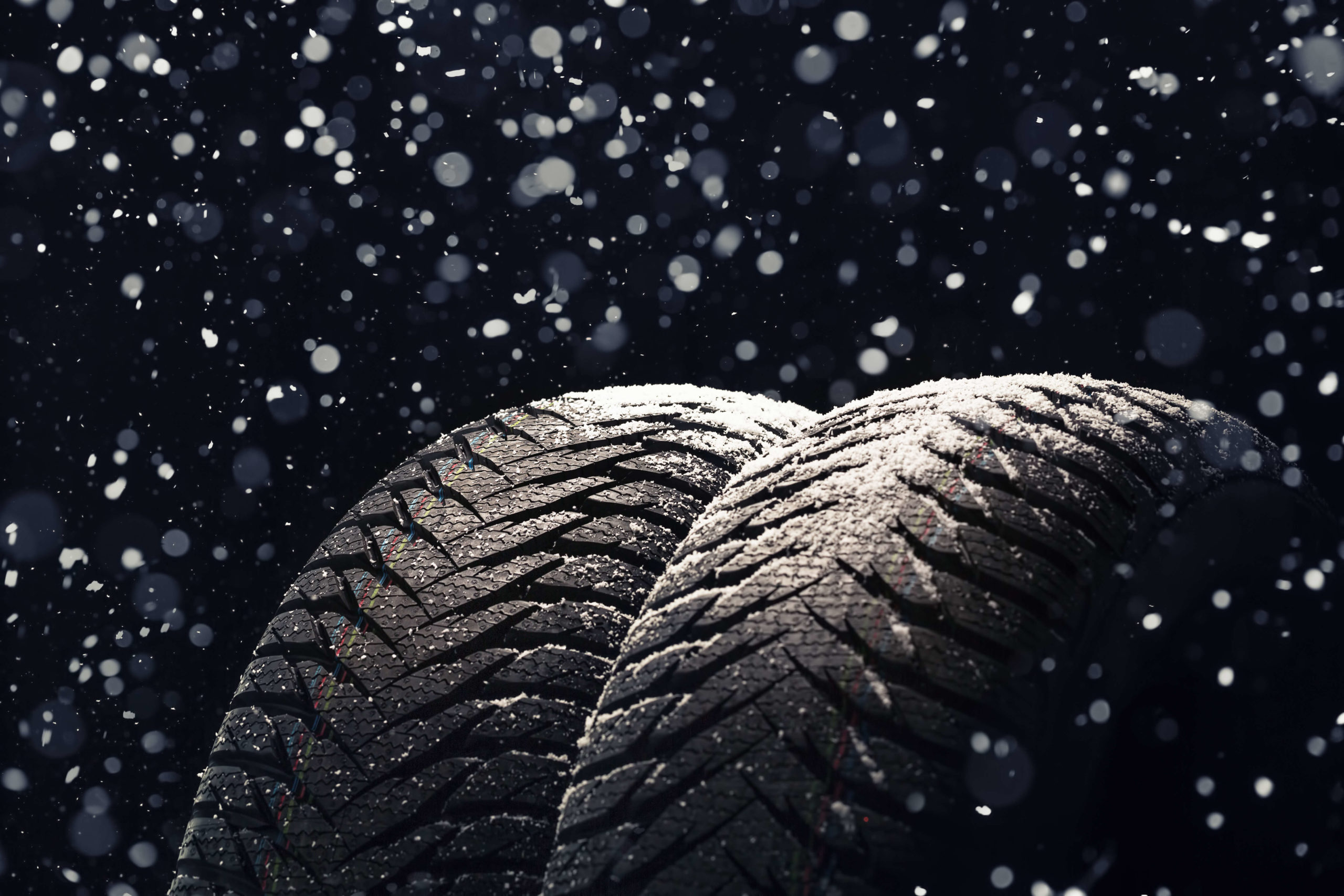 Winter road conditions in B.C. can vary wildly over short distances. You can begin your trip on a dry road under a sunny sky but soon end up battling treacherous snow and icy highways on a high mountain pass. That's why there are strict snow tire rules in B.C., and it's your responsibility to equip your car correctly. Here's what you should know about winter tire rules for B.C. drivers and how to stay safe this winter.
Snow Tire Rules in B.C.
People travelling on most routes in British Columbia must have winter tires installed on their vehicles or a set of chains ready. These rules are in effect every year from October 1 to April 30 on most highways. However, for those routes that don't go through mountain passes or heavy snowfall areas, the requirement ends on March 31. Designated routes are marked with regulatory signs.
Some routes don't require you to have winter tires. This is because some municipalities and private roads (such as ski resorts) have their own rules regarding winter driving.
Furthermore, parts of the Lower Mainland don't have winter tire requirements because of the temperate climate. While drivers in the Lower Mainland may not require winter tires, it's still important to know the snow tire rules in the rest of B.C., especially if they're planning to travel to popular winter destinations such as Whistler or across the province.
Which Winter Tires Are Legal in B.C.?
Winter snow tires that are legal in B.C. are marked with a three-peaked mountain and snowflake symbol. These tires are the best and safest option for people who regularly drive in snowy or mountainous areas. However, people in Vancouver and other parts of the Lower Mainland may choose to use all-season mud and snow tires, which are marked with an M+S symbol.
Both types of tires are accepted in British Columbia. However, people using M+S tires must be prepared to drive with extra caution in winter conditions. Driving on restricted routes without the correct tires can result in authorities turning you back and handing you a fine.
Summer tires aren't permitted for driving during designated winter months. Furthermore, snow chains on summer tires aren't an acceptable substitute for legal winter tires.
What Condition Should Your Tires Be In?
Tires, even winter ones, don't provide sufficient traction if the tread is worn out. B.C. rules state that the tread must be a minimum of 3.5 millimetres deep. You can check the tread on your tires using the quarter test. Do this by placing a 25-cent coin in the tread with the caribou's nose pointing down. If you can see the tip of the nose (or about three-quarters of the coin is above the tread line), the tread is too worn.
It's also essential that you use four identical tires on your car. Using different tires can result in uneven wear and difficulty accelerating, braking and turning while you drive. You must have at least two matching winter tires on the primary drive axle. A four-by-four vehicle requires all winter tires to be matching.
Finally, keep an eye on the tire pressure. Maintaining proper air pressure improves safety and extends tread life. Air pressure can fluctuate with the weather, so check the pressure at least once a month during winter. Always keep your tires inflated according to the manufacturer's recommendations. This information can typically be found on a sticker inside the driver-side door.
Can I Drive to Whistler with All-Season Tires?
Many people who live in the Lower Mainland travel on Highway 99, also known as the Sea to Sky Highway, the Squamish Highway or the Whistler Highway. This highway connects Vancouver with popular winter destinations such as Whistler and Squamish. So, are winter tires required on the Sea to Sky Highway? The answer is yes; Highway 99 is one of the designated routes requiring all vehicles to have winter tires. Weather conditions can change quickly in the mountains, and you could put yourself and others at risk without the proper tires. BC Highway Patrol and RCMP actively enforce the Sea to Sky Highway regulations to keep everyone safe.
When To Install Winter Tires in Vancouver
Because the winter tire rules in B.C. take effect annually on October 1, it's best to get your tires ready before then. Summer tires typically lose performance when temperatures drop below 7 C, so keep an eye on the mercury to know when your summer tires need replacing.
Winter Driving Tips for B.C. Motorists
It's the responsibility of B.C. drivers to be aware of road conditions and to equip their vehicles according to regulations. Authorities recommend avoiding travel during extreme weather events and waiting until conditions improve. If you must travel during bad weather, ensure you're seen by using your headlights. Daytime running lights are insufficient because they're dimmer than headlights and don't activate the taillights.
Furthermore, ensure your car has an emergency kit with water, food, first aid supplies, a flashlight, tools, a blanket and warm clothes.
Don't panic if you get stranded. Stay with your vehicle for safety and warmth, and call 911 if it's an emergency. If you run the engine, open a window slightly to minimize exposure to exhaust fumes.
Finally, take your car to an automotive centre for a winter maintenance tune-up. Have a trained technician check the battery, brakes, exhaust, belts, hoses, lights and heating system to ensure your car is ready for the road. This is also an excellent time to swap your summer tires for winter ones.
Winter Tire Installation in Vancouver and the Lower Mainland
If you need a new set of winter tires or need to have the ones you own installed, choose Minit-Tune & Brake Auto Centres. With locations across the Lower Mainland, including two in North Vancouver, there's sure to be one close to you. Contact us today to make an appointment.
MINIT-TUNE BLOG
Minit-Tune & Brake Auto Centres Address Common Issues
Here at Minit-Tune & Brake Auto Centres in British Columbia, we're always pleased to help our customers get the most out of their cars and trucks. To that end, we'll add a relevant blog topic from time to time to keep you up to date and getting the most out of your vehicle.